Package Contents

Bullet AC IP67

N-Type Right Angle Adapter
Installation Requirements
Shielded Category 5 (or above) cabling with drain wire should be used for all outdoor wired Ethernet connections and should be grounded through the AC ground of the PoE.

We recommend that you protect your networks from harmful outdoor environments and destructive ESD events with industrial-grade, shielded Ethernet cable from Ubiquiti. For more details, visit ui.com/toughcable

Surge protection should be used for all outdoor installations. We recommend that you use two Ethernet Surge Protectors, model ETH-SP, one near the Bullet and the other at the entry point to the building. The ETH-SP will absorb power surges and safely discharge them into the ground.
* Shown without antenna.
Hardware Overview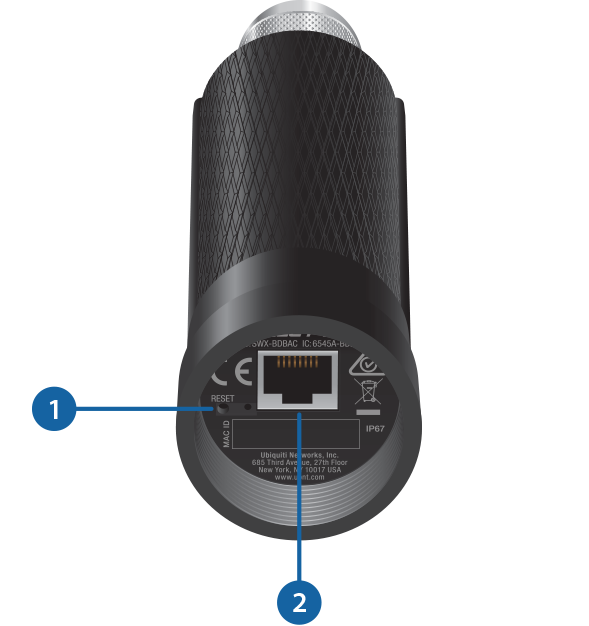 Reset Button
To reset to factory defaults, press and hold the Reset button for more than 10 seconds while the device is powered on.
Ethernet Port
This 10/100/1000 Ethernet port is used to connect the power and should be connected to the LAN and DHCP server.
Hardware Installation

| | |
| --- | --- |
| | Note: The Bullet should be mounted vertically to reduce stress on the N-Type Connector. The N-Type Right Angle Adapter may be used as needed. |
Accessing airOS via Wi-Fi
Installer Compliance Responsibility
Devices must be professionally installed and it is the professional installer's responsibility to make sure the device is operated within local country regulatory requirements.
Antenna
Select your antenna from the list. If Calculate EIRP Limit is enabled, transmit output power is automatically adjusted to comply with the regulations of the applicable country. For a Custom antenna, Antenna Gain is entered manually. Note the requirements and antenna types listed below.
Cable Loss (When applicable)
Enter the cable loss in dB. Output power is adjusted to compensate for loss between the radio and the antenna.
Certified Antenna Types
This radio transmitter FCC ID: SWX-BDBAC / IC: 6545A-BDBAC has been approved by FCC / ISED Canada to operate with the antenna types listed below with the maximum permissible gain for each antenna type indicated. Antenna types not included in this list or having a gain greater than the maximum gain indicated for that type, are strictly prohibited for use with this device.
Antenna

Frequency

Gain

Omni

2.4 GHz
5 GHz

13 dBi
13 dBi

Sector

2.4 GHz
5 GHz

17 dBi
22 dBi

Dish

2.4 GHz
5 GHz

24 dBi
34 dBi
Specifications
BulletAC-IP67

Dimensions

190 x 46 mm (7.72 x 1.81")

Weight

213 g (7.51 oz)

Enclosure

Aluminum and Rubber

Processor

MIPS 74KC

Memory

DDR2 64MB

Networking Interface

(1) 10/100/1000 Ethernet Port

Antenna Connector

N-Type Connector

Max. Power Consumption

7W

Max. TX Power

22 dBm

Power Supply

24VDC, 0.3A (Minimum)*

Power Method

24V Passive PoE (Pairs 4, 5+; 7, 8 Return)

Shock and Vibration

ETSI300-019-1.4

ESD/EMP Protection

±24kV Contact / Air

Operating Temperature

-40 to 70° C

(-40 to 158° F)

Operating Humidity

5 to 95% Noncondensing

Weatherproofing

IP67

Certifications

CE, FCC, IC
* Not included with the BulletAC-IP67.
Operating Frequency (MHz)

US/CA

2400 - 2483.5

U-NII-1

5150 - 5250

U-NII-2A

5250 - 5350

U-NII-2C

5470 - 5725

U-NII-3

5725 - 5850

Worldwide

2400 - 2483.5
5150 - 5875