Package Contents

LTU-Rocket

GPS Antenna Mount

External GPS Antenna

Metal Strap

Zip Ties (Qty. 2)

Universal Bracket

IP67 Upgrade Kit
(Vent and Gasket)

Gigabit PoE (24V, 1A) with Mounting Bracket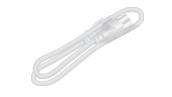 Power Cord
Antenna Compatibility
The LTU-Rocket is designed for use with the following Ubiquiti® airMAX® Sector antenna models* for Point-to-MultiPoint mode:
AM-5AC21-60
AM-5AC22-45
AM-V5G-Ti
AM-M-V5G-Ti
AM-5G16-120
AM-5G17-90
AM-5G19-120
AM-5G20-90
AP-5AC-90-HD
* Requires Universal Bracket (included).
Installation Requirements
Clear line of sight between LTU

™

AP and stations
Clear view of the sky for proper GPS operation
Vertical mounting orientation
Mounting point:

At least 1 m below the highest point on the structure
For tower installations, at least 3 m below the top of the tower

Ground wires – min. 10 AWG (5 mm

2

) and max. length: 1 m. As a safety precaution, ground the LTU radio to a grounded mast, pole, tower, or grounding bar.

| | |
| --- | --- |
| | WARNING: Failure to properly ground your LTU radio will void your warranty. |

Outdoor, shielded Category 6 (or above) cabling and shielded RJ45 connectors are required for all wired Ethernet connections.
Surge protection should be used for all outdoor installations. We recommend that you use two Ethernet Surge Protectors, model ETH-SP-G2, one near the device and the other at the entry point to the building. The ETH-SP-G2 will absorb power surges and safely discharge them into the ground.

| | |
| --- | --- |
| | Note: For guidelines about grounding and lightning protection, follow your local electrical regulatory codes. |

* Shown without antenna.
Hardware Overview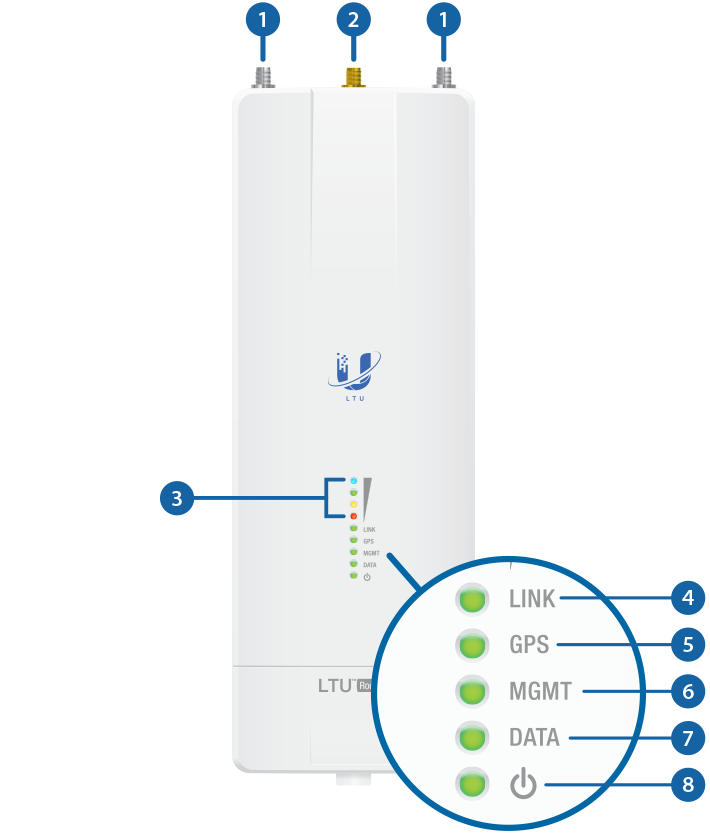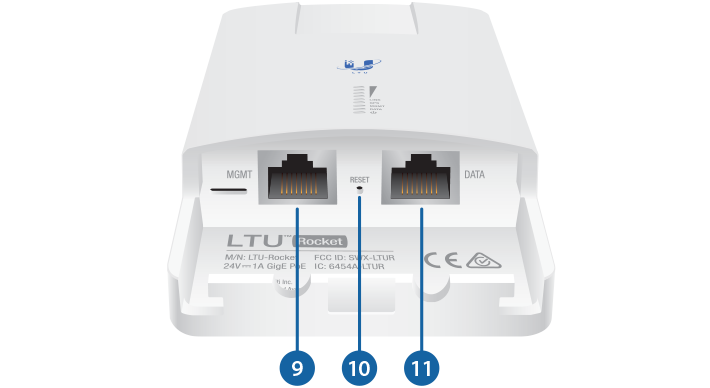 LTU Antenna Connectors

Used to attach RF antenna cables (not included).

GPS Antenna Connector

Used to attach the GPS Antenna.

Signal LEDs

Each LED will light when the wireless signal strength is equal to or greater than the LED's threshold value for the current channel width setting. The default threshold values for each channel width are shown below:

Link LED

Off

RF Off

Syncing

Beaconing

Registering

On

Operational

GPS LED

Off

No GPS Synchronization

Non-Operational (Weak Signal)

On

Operational (Strong Signal)

MGMT LED

LED not used.

Data LED

Off

No Ethernet Link

On

Ethernet Link Established

Random Flash

Ethernet Activity

Power LED

Off

No Power

On

Powered On

Management Port

Port not used.

Reset Button

To reset to factory defaults, press and hold the Reset button for more than 10 seconds while the device is powered on.

Data Port

Gigabit PoE port for handling all user traffic and powering the device. Default IP address: 192.168.1.20
Installation Overview
We recommend that you configure your LTU-Rocket radio before site installation. The following sections provide detailed installation instructions. Perform these instructions in the sequence given.
Connecting Power over Ethernet

| | |
| --- | --- |
| | WARNING: Use only the included adapter, model POE-24V-5X-HD. Failure to do so can damage the unit and void the product warranty. |
LTU Configuration
Access the LTU Configuration Interface for configuration. By default, Access Point mode is already enabled for the LTU-Rocket. You can choose to configure settings such as Link Name, Duty Cycle, Channel Bandwidth, and Frequency.
The PTMP stations will scan and find the LTU-Rocket and do not need any frequency set as long as they are set with the same Channel Bandwidth and Link Name.
Configuration Using Browser-Based Interface
Configure the Ethernet adapter on your computer with a static IP address on the 192.168.1.x subnet.
Launch your web browser. In the address field, type:

http://192.168.1.20

Then press enter (PC) or return (Mac).

Select your

Country

and

Language

. You must agree to the

Terms of Use

,

EULA

, and

Privacy Policy

to use the product. Click

Continue

.
Click the icon.
Configure the following settings:

If needed, change the

Channel Bandwidth, Frequency, Output Power

(EIRP),

Antenna Gain

, and

Max TX Modulation

settings. The

Channel Bandwidth

should be the same on all devices in the PtMP link.
In the Security

Key

field, enter a combination of alphanumeric characters (0-9, A-Z, or a-z).

| | |
| --- | --- |
| | Note: The key is an alphanumeric password between 8 and 63 characters long. |

Click

Save Changes

.
Configure a unique IP address for the

Data

port:

Click the icon.
For the Data IP Address option:

DHCP

Have your router use DHCP reservation to assign a unique IP Address.

Static

Change the

IP Address

,

Netmask

, and other settings to make them compatible with your network.

Click

Save Cha

nges

.
Upgrade for IP67 Compliance
To protect the LTU-Rocket from intrusion by water, dust, and insects, we recommend installing the IP67 Upgrade Kit (included):
| | |
| --- | --- |
| | Note: Do not damage or remove the post on the Port Cover. |
Hardware Installation
Installing the Ground Wire
At the installation site, secure the other end of the ground wire to a grounded mast, pole, tower, or grounding bar.

| | |
| --- | --- |
| | WARNING: Failure to properly ground your LTU radio will void your warranty. |

| | |
| --- | --- |
| | Note: The ground wire should be as short as possible and no longer than one meter in length. |
Mount to an airMAX Sector Antenna
The LTU-Rocket is designed to mount directly onto the Ubiquiti antennas listed in "Antenna Compatibility". The airMAX Sector antenna AM-5AC21-60 is shown in this section:

Mount the External GPS Antenna
Locate a mounting point that has a clear view to the sky, and is above and as far away as possible from the LTU-Rocket.
OR
Connecting Power over Ethernet
OR

| | |
| --- | --- |
| | Note: If the IP67 Upgrade Kit is installed, first apply dielectric grease to the cable connector and port. |

WARNING: The LTU-Rocket must receive a minimum of 15W. Ensure that the voltage range of the PoE source is within these limits:

4-pair operation: 18-54V
2-pair operation: 30-54V

OR

| | |
| --- | --- |
| | WARNING: Use only the included adapter, model POE-24V-5X-HD. Failure to do so can damage the unit and void the product warranty. |
Optional

Installer Compliance Responsibility
Devices must be professionally installed and it is the professional installer's responsibility to make sure the device is operated within local country regulatory requirements.
Antenna
Select your antenna from the list. If Auto Output Power is enabled, transmit output power is automatically adjusted to comply with the regulations of the applicable country. For a Custom antenna, Antenna Gain is entered manually. Note the requirements and antenna types listed below.
Cable Loss (When applicable)
Enter the cable loss in dB. Output power is adjusted to compensate for loss between the radio and the antenna.
Certified Antenna Types
This radio transmitter FCC ID: SWX-LTUR / IC: 6545A-LTUR has been approved by FCC / ISED Canada to operate with the antenna types listed below with the maximum permissible gain for each antenna type indicated. Antenna types not included in this list or having a gain greater than the maximum gain indicated for that type, are strictly prohibited for use with this device.
| | | |
| --- | --- | --- |
| Antenna | Frequency | Gain |
| Sector | 5 GHz | 22 dBi |
Specifications
LTU-Rocket

Dimensions

244 x 82 x 48 mm (9.61 x 3.23 x 1.89")

Weight

0.468 kg (1.03 lb)

RF Connectors

(2) RP-SMA Weatherproof (CH0, CH1)

(1) SMA Weatherproof (GPS)

GPS Antenna

External, Magnetic Base

Power Supply

24VDC, 1A Gigabit, 4-Pair Passive PoE (Included)

Power Method

Proprietary Passive PoE
Pins 1, 2; 4, 5+ and Pins 7, 8; 3, 6-

Supported Voltage Range

+18 to +54VDC1
(Either/Both RJ45 Ports for Redundancy)

Max. Power Consumption

15W

Networking Interface

Data Port
(1) 10/100/1000 Ethernet Port
Bluetooth v4.0
Management Port
(1) 10/100/1000 Ethernet Port
(Reserved for Future Use)

Mounting

Integrated Pole Mount (Included)

Rocket Mount Compatible

GPS Pole Mount (Included)

Operating Temperature

-40 to 55° C (-40 to 131° F)

Weatherproofing

IP672

Certifications

FCC Part 15.407
CE EN 302502 v1.2.1, EN 301 893 v1.7.1
1 Full range depends on Ethernet cable length.
2 After installation of IP67 Upgrade Kit (included).
System

Maximum Throughput

50 MHz Capacity
675.84 Mbps

1

Maximum Range

100+ km

Packets per Second

2,000,000

Encryption

WPA2-PSK (AES)

Forward Error Correction

LDPC

Uplink/Downlink Ratio

25/75, 33/67, 50/50

OS

airOS LTU

Wireless Modes

AP
Radio

Max. Conducted TX Power

23 dBm2

Frequency Accuracy

< 2 ppm

Channel Bandwidth

10/20/30/40/50 MHz Selectable
Programmable Uplink and Downlink Duty Cycles
Operating Frequency (MHz)

Worldwide

4800 - 62002

US/CA

U-NII-1

5150 - 5250

U-NII-2A

5250 - 5350

U-NII-2C

5470 - 5725

U-NII-3

5725 - 5850
1 May vary depending on environmental conditions.
2 Depends on regulatory region.
Bluetooth LE Management Radio (MHz)

Worldwide

2400 - 2483.5