Package Contents

UniFi Switch Flex Mini

Power Adapter (5V, 1A)*
* Included only in the single-pack of the USW-Flex-Mini.
System Requirements
Linux, Mac OS X, or Microsoft Windows 7/8/10
Java Runtime Environment 1.8 or above recommended
Web Browser: Google Chrome (Other browsers may have limited functionality)
UniFi Controller software v5.12.5 (or newer), available at:

ui.com/download/unifi
Hardware Overview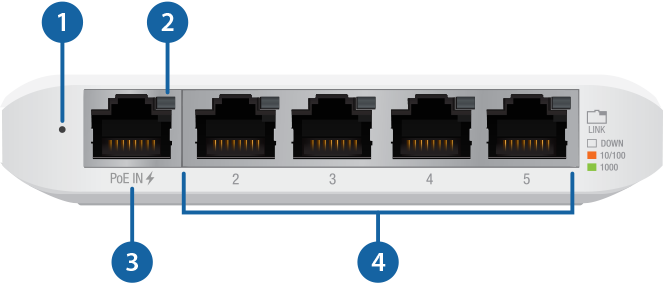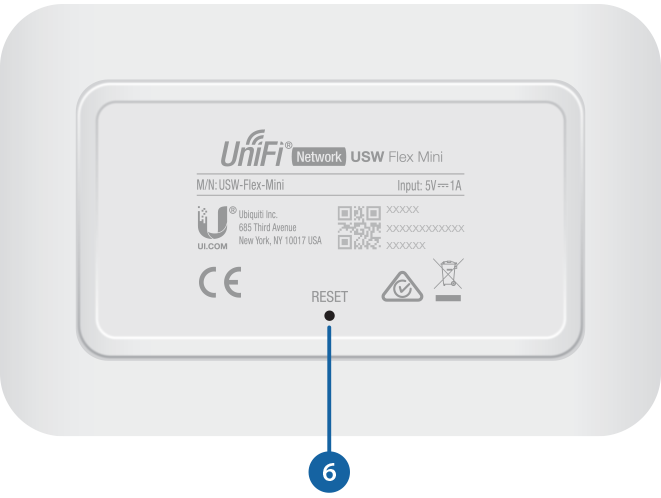 System LED

Flashing White

Initializing.

Steady White

Factory defaults, waiting for adoption.

Alternating White/Blue

Device is busy; do not touch or unplug it. This usually indicates that a process such as a firmware upgrade is taking place.

Steady Blue

Successfully adopted by a network and working properly.

Flashing Blue

This is used to locate a device.

When you click Locate in the UniFi Controller software, the System LED will flash blue. The software will also display the location of the UniFi Switch on the map.

RJ45 Link/Speed/Activity LED (Ports 1- 5)

Off

No Link

Amber

Link established at 10/100 Mbps

Flashing indicates activity

Green

Link established at 1000 Mbps (1 Gbps)

Flashing indicates activity

PoE In Port

This RJ45 port supports a 10/100/1000 Mbps Ethernet connection and 802.3af/at PoE input.

Ports 2 - 5

RJ45 ports support 10/100/1000 Mbps Ethernet connections.

Power Port

Connect the included Power Adapter to the Power port.

Reset Button

Resets to factory defaults. The device should be running after bootup is complete. Press and hold the Reset button for about 10 seconds until the LED starts flashing and then becomes solidly lit. After a few seconds, the LED will turn off, and the device will automatically reboot.
Connecting Power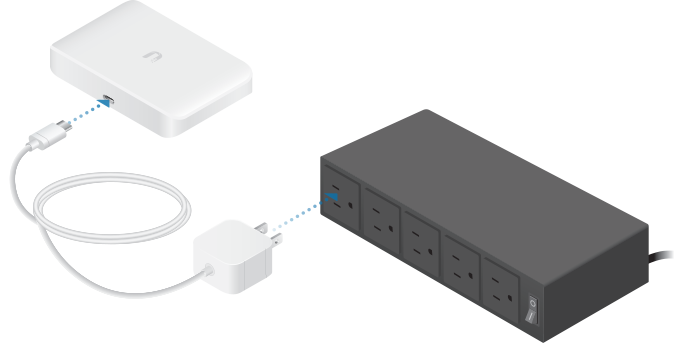 OR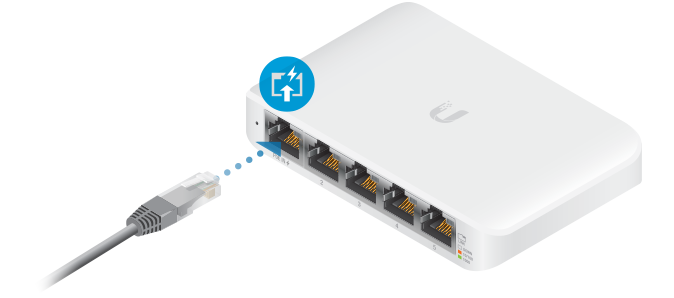 Connecting Ethernet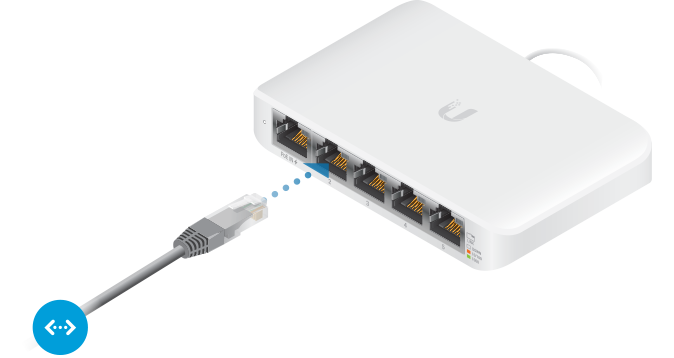 Software Installation
Download and install the latest version of the UniFi Controller software at ui.com/download/unifi and follow the on-screen instructions.
After you have installed the software and run the UniFi Installation Wizard, a login screen will appear for the UniFi Controller management interface. Enter the admin name and password that you created and click Sign In.
To adopt the UniFi Switch, proceed to "Adopting the UniFi Switch".
You can manage your network and view network statistics using the UniFi Network Controller management interface. For information on using the UniFi Network Controller software, refer to the User Guide located on our website at: ui.com/download/unifi
Adopting the UniFi Switch
From the UniFi Controller dashboard, click

Devices

in the left menu bar.

On the

Devices

screen, locate the UniFi Switch in the list of devices under the

Model

column. To adopt the UniFi Switch, click

Adopt

.

The

System

LED on the UniFi Switch will turn blue to confirm that it has been successfully adopted.
Specifications
USW-Flex-Mini

Dimensions

107.16 x 70.15 x 21.17 mm
(4.22 x 2.76 x 0.83")

Weight

150 g (5.29 oz)

Networking Interfaces

(5) 10/100/1000 Mbps RJ45 Ports

PoE In Interface

802.3af/at PoE (Pins 1, 2+; 3, 6-)

Max. Power Consumption

2.5W

Power Method

USB Type C, 5V
802.3af/at PoE (44 - 57VDC, 0.05 - 0.04A)

Power Supply

5V, 1A Power Adapter*

Voltage Range

USB Type C
4.7 - 5.2VDC
802.3af/at PoE
44 - 57VDC

LEDs

System
Status
RJ45 Data Ports
Link/Speed/Activity

ESD/EMP Protection

± 16kV Air, ± 12kV Contact

Operating Temperature

-5 to 45° C (23 to 113° F)

Operating Humidity

10 to 90% Noncondensing

Certifications

CE, FCC, IC
* Included only in the single-pack of the USW-Flex-Mini.